The wedding day is usually one of the most important days in the lives of a bride and her family. As the bride waits to be a part of her new family, the crowd holds its breath in admiration, looking at the bride's beautiful lehenga. Being the center of attention with her gorgeous wedding dress, make-up, and hair, the bride smiles as she blushes. Saciva Events provides the opportunity to take the stress off your shoulders of organizing weddings and provides all services to ensure the bride and groom have their special day. In order to help soon-to-be brides choose a better outfit for their big fat Indian wedding, this blog talks about the various elements of an Indian wedding dress and what makes it all so special.
What are the differences between Indian wedding dresses across the country?
Not entirely unlike the variations in language and cuisine, wedding dresses vary in almost every state. The weather plays a crucial role in the matter, as does the relevance of colours and the symbolism of motifs. Kashmiri brides wear pherans, which are made of pashminas and gold threads. In Gujarat, the bride traditionally changes two saris—a planetary and a gharchola. Punjabi brides traditionally pick lehengas in hues of pink and red, and while the Bengali bride too can choose a completely red ensemble for the main event, her trousseau is never without a traditional red and white sari. In Assam, brides wear a mekhla chadar, while in Orissa, the bride and the groom are decked out in headgear similar to the Bengali bride.
In Maharashtra, Paithani saris are an important part of the bridal trousseau. Tamilian and Telugu bridal attire is all about laying the focus on wedding jewellery, and most often, the bride will tie the knot in an elegant silk sari. Further down in Kerala, Malayali brides prefer the white and gold kasavu sari, accessorized with several gold necklaces.
Christian Wedding
Of course, religions play a role in the wedding dress the woman will don on her big day. Muslim brides often choose an ornate sharara set; Parsi brides opt for the traditional lace or gara sari in white; and Christian brides opt for gowns, though, some choose to wear both a sari and a gown on their big day.
The popularity of the bridal lehenga
Romanticized by Bollywood and fine-tuned by designers, the lehenga has become a mainstay in a wedding trousseau today. The outfit—comprising of a choli, a full skirt, and a dupatta that may or may not be worn like a veil—has seen many iterations in its time. Some might choose to go demure without baring much skin, while others may opt for daring cuts—this garment has something for everyone.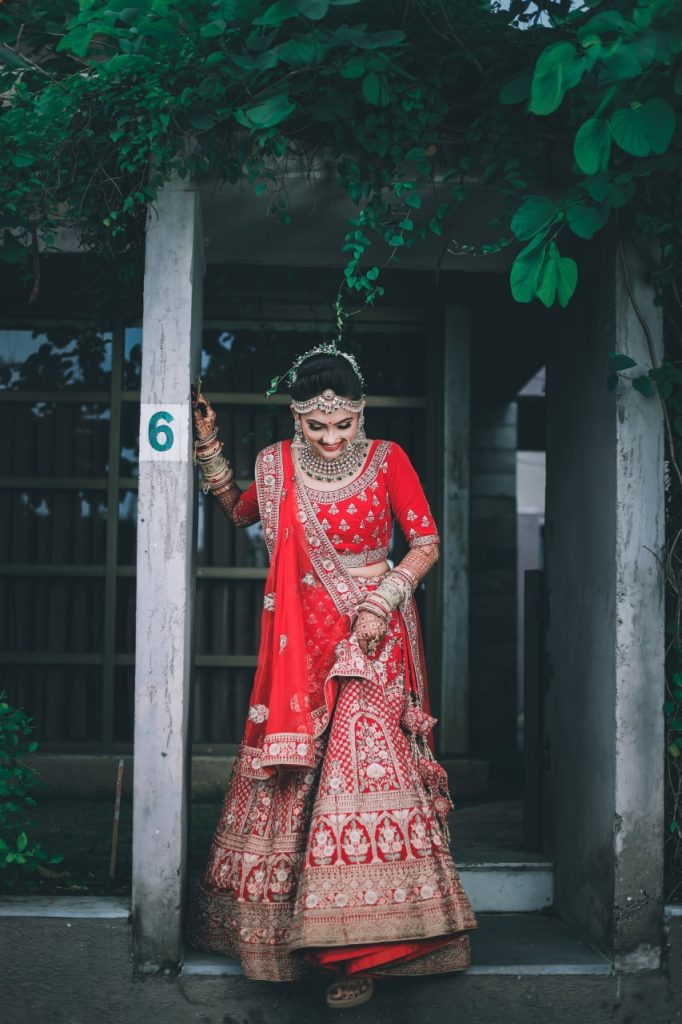 Will you pick a bridal sari for your big day?
While there are many in favour of the lehenga camp, a traditionalist bride will find it difficult to forgo the sari on her wedding day. Benarasi saris are currently trending, and an increasing number of brides are falling for the charm of these decadent drapes. Traditionally worn with an ornate belt to cinch the waistline and accessorized with a veil on some occasions, a brocade sari can make for the perfect look for the pheras. In the case of Parsi weddings, brides like to go down the route of a delicately embroidered lace sari, however, the modernist in you might want to opt for a sari-gown hybrid. Wearing an heirloom may be an unconventional choice to some (given that tradition dictates the bride is decked out in brand-new finery), but it's not something that hasn't been done before. Head to your favourite designer and custom-create a blouse that elevates the sari.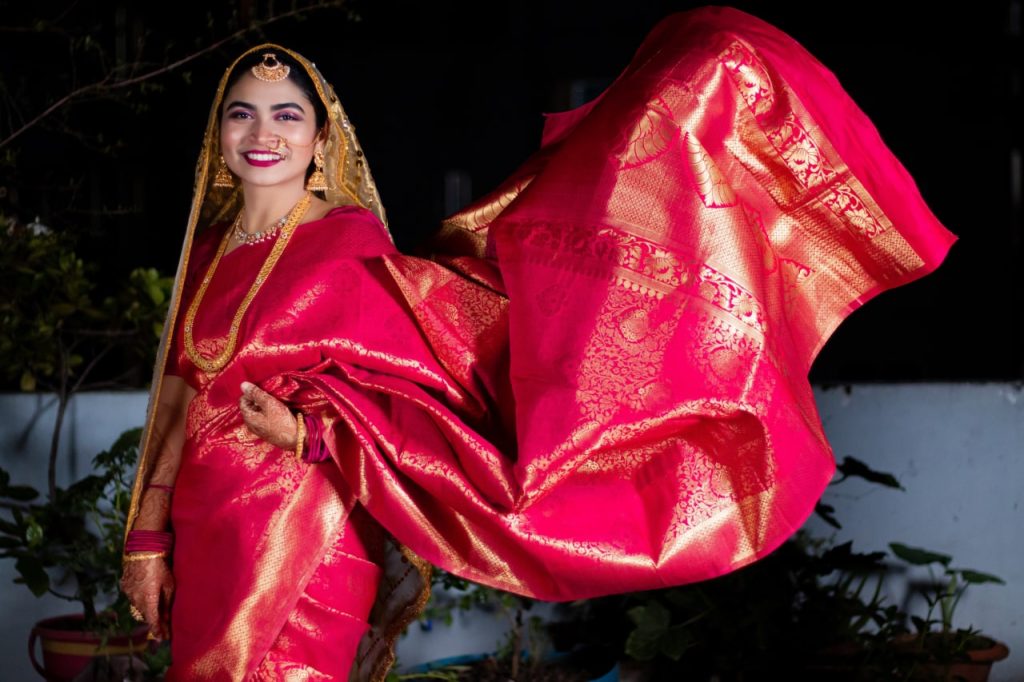 How do you go about making sure you don't blend in with the rest of the crowd that is also in saris? Most cultures assign a specific colour or a drape for the bride that cannot be repeated by the guests in attendance out of respect. But if you're still unsure if you want to give up on the splendour of the lehenga, you can opt for other occasions like a puja, or a smaller ceremony preceding the pheras.
What is the scope for wedding gowns in your trousseau?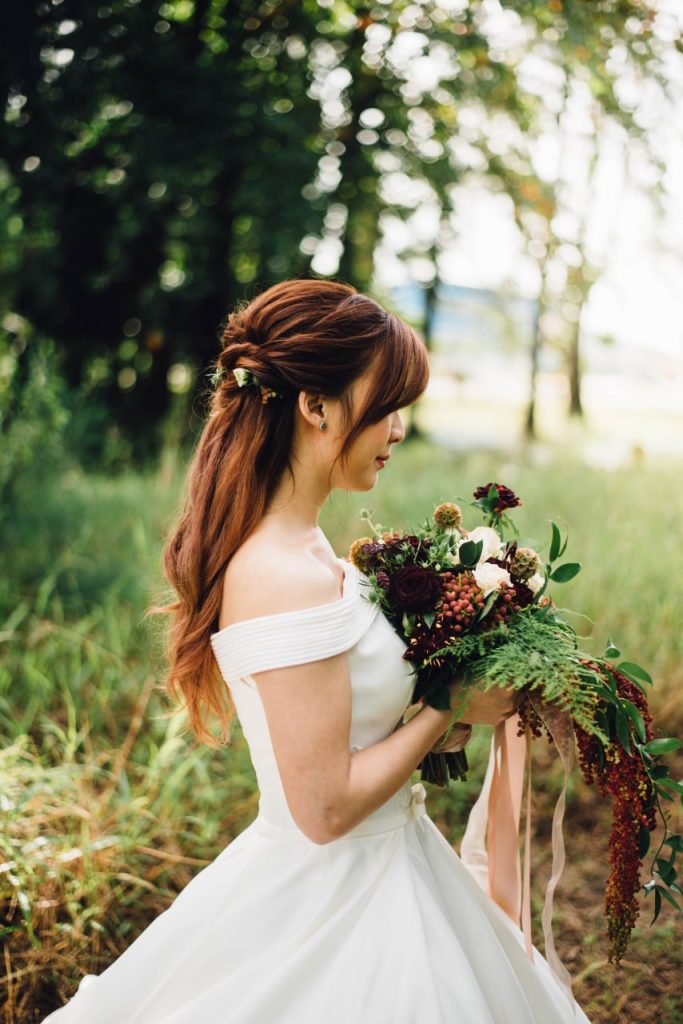 Unless you're having a Christian ceremony or a completely bohemian version of a wedding that does not adhere to conventional codes, a wedding gown can seem completely out of question in a bridal trousseau. But the general sequence of events surrounding a wedding has made room for more experimental sartorial choices. A youngster's party or the reception are the perfect occasions to have your modern-day princess moment. If neither of those occasions warrants the cause, plan in advance and choose a theme for your engagement that allows you to go all out in a gown.
What to keep in mind when picking bridesmaid dresses for your wedding?
After choosing the theme of your wedding, it is important to narrow down a colour scheme for all the events. Your bridesmaids are going to feature in most of your wedding pictures and therefore, picking their dresses is as important as picking your own. While most choose a universally flattering silhouette for all, you can allow your bridesmaids to pick different silhouettes for their individual outfits, and fashion the garment out of the same fabric. If you want to allow for complete freedom, request your bridesmaids to stay within the same colour scheme and choose one element like ruffles or lace to feature in all of their looks.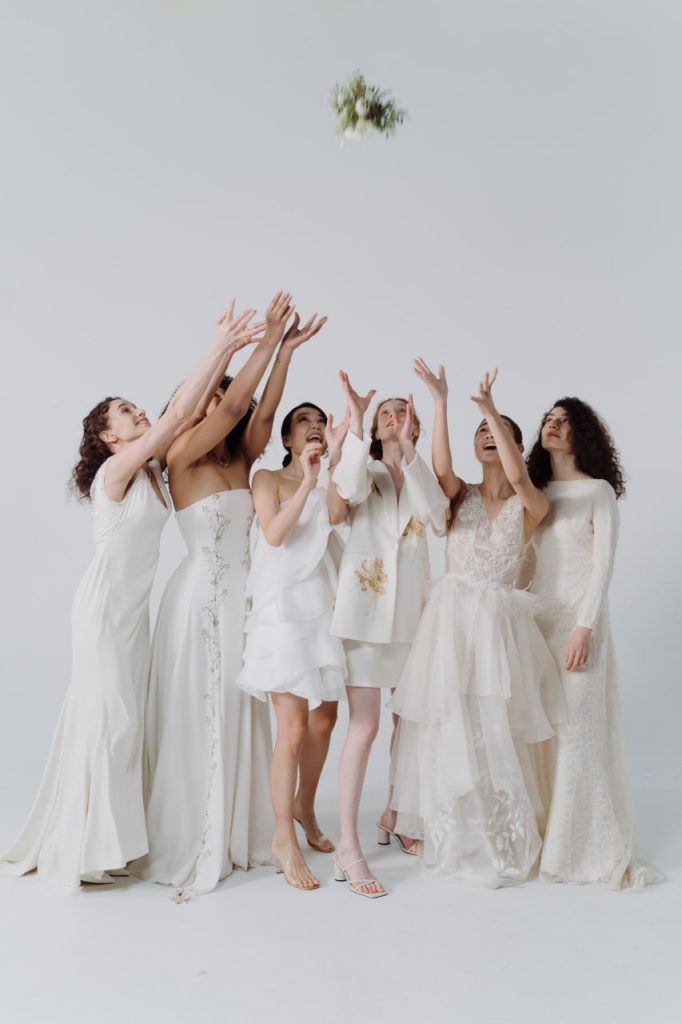 Wedding party dresses that you need for the days leading up to the wedding
There will be no dearth of parties in the countdown to the big day, and they could be varied in their natures. Just because you are a bride-to-be doesn't mean you need to start going all out with your wardrobe picks already. Exercise moderation and keep an arsenal of Indian ethnic wear and party dresses ready for impromptu invites.
Now that you have an idea of what to look out for while choosing your wedding dresses, you can rest assured that on a special day, all the eyes are going to be looking at the bride. To ensure there is nothing for the two families to worry about on a special day, Saciva Events can take the responsibilities and deliver on your family's special day.